I'm a bit late to the party but… Happy New Year everyone! I had some blog posts that I wanted to write during the holidays, but I spent most of the time (when I wasn't playing video games) trying to finish some projects I've been working on. I also grew tired of my old WordPress-blog, especially after some russian hacker found an exploit in one of the plugins I was using.
So I decided that 2015 would be a year of refreshment. I've polished my logo, upgraded my website and organized my projects a bit better.
The logotype
The previous version was designed by my friend Peder Bergström, and I've been really happy with it so far. I wanted to do some minor polishing though, to make it a bit more playful. The old logo was also created in Photoshop, and even though it used vector shapes I had some problems when scaling or exporting it to other formats. So I also saw this as a chance to recreate a pixel perfect version in Illustrator, so I could export it to SVG as well.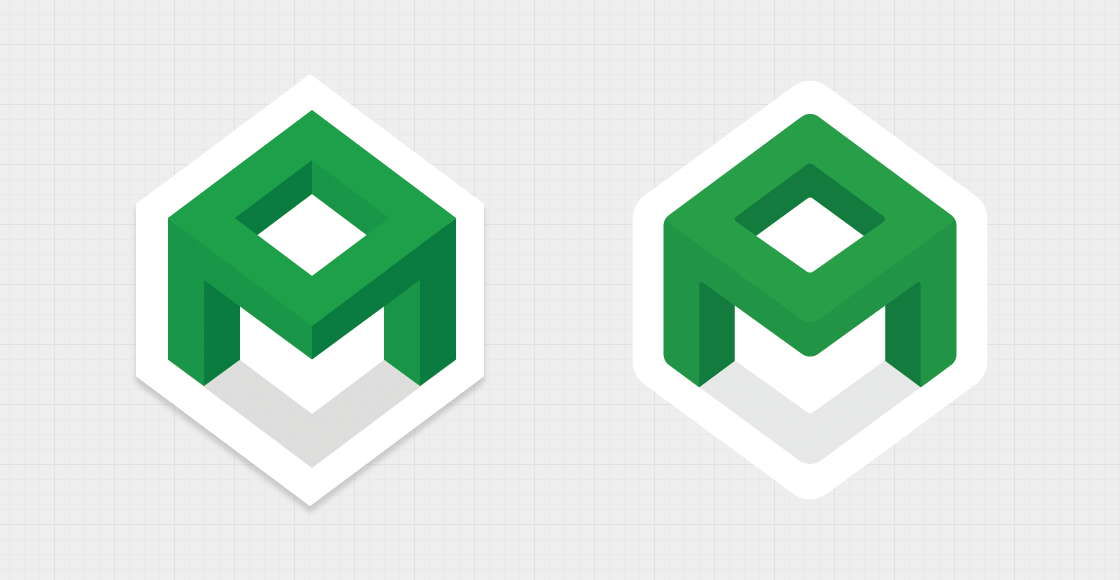 In short, the new logo has more rounded corners and a bit more simplified layers. I also tried making a small animation in After Effects, I think it turned out pretty nice:

The website
I also redesigned my website and moved away from WordPress. As a front end developer I wanted more power than WordPress was willing to give me (without needing a bunch of plugins). The new site is actually a static website created with a tool called Metalsmith. All my blog posts are written in Markdown and converted into simple HTML pages.
The downside may be that it's harder to create dynamic pages, but I think I've solved it pretty well by using Disqus for comments and Formspree for e-mail forms.
On the new site I've focused more on displaying my projects as well. On the home page I've added some larger and more interesting teasers for my apps. Each teaser has two links, one to the project website and one to a blog post about the development of the project. I've written a few new blog posts for projects that didn't have any before:
I've also started hosting support sections for my apps on this website, as I believe it will make it easier for me to keep them up-to-date.
Discontinued projects
Some bad news are that I've decided to discontinue and shut down some of my projects. Most notable are Instameme (an image sharing site for Internet memes) and Hej.io (event planning site). The reason for this is that I felt like they required improvements that would take a lot of time, and I want to spend that time on my other projects instead.
My one-page sites like [Best CMS Ever](http://www.bestcmsever.com) and [NoisePNG](http://www.noisepng.com) may not be getting any updates soon, but will remain as they are.
What's next?
I have a lot of ideas for 2015, some that I will keep a secret, but also some that I wanted to share with you today.
TodoCat Teams
I've been working for a while with a new Teams-feature for TodoCat, which will be a subscription-based service offering features that will make TodoCat even better for companies.
It will include features like automatic sharing of lists between team members, exporting tasks to larger task management software like Jira, and some statistics for the lists in your team.
Hypernap 2
I'm planning on making an updated version of Hypernap. The main goal is to improve the underlying components that are in charge of making the HTTP-requests, but I also have some ideas on how I can improve the UI. All of this is pretty much still in a planning phase, but I'm hoping to get started for real soon.
APM 2
APM haven't received any updates in a long time, mainly because it doesn't have that many features that can be upgraded. I have some ideas for a larger update that would add more different statistics to share, for example I could show which keys that are being used the most (without saving the order keys are pressed, of course).
Fika IM
This is a project I started a long time ago but haven't announced in public yet. It is a web based chat service built upon the IRC protocol, designed to make IRC easier and more user friendly.
I will make a new blog posts closer to its beta-release where I explain more about how it works and what my goals are.
Thank you
I would like to thank everyone who has supported the development of my projects. I'm looking forward to releasing a lot of new updates this year and I'm hoping that you will like them. Let me know if you have feedback or suggestions, and remember to rate my apps on the App Store :)