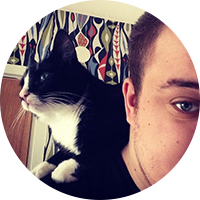 About Marcus
Marcus grew up in a small town called Robertsfors, near the east coast of Northern Sweden. Early in his life he grew an interest for video games and computers. Not only for play, but also in how they were built and how you can interact with them.
Fast-forward to 2005, he submitted his first real application to a competition in the Swedish magazine Datormagazin. It was called moDesktop and would let the user create virtual desktops on Windows. The application earned fifth place in the competition and was featured in the magazine – which gave Marcus the confidence to continue his learning about software development.
Around the same time he also learned about web development, which became his focus area for years to come. In May 2010 he moved to Östersund where he joined Adeprimo, a full-service digital agency, to work as an Interface Developer.
He still works at Adeprimo in their Innovative-team. The team works mainly with app development and small to medium sized websites. To improve his skills in agile software development, he became a Certified Scrum Master (CSM) in 2011.
In 2012, after working with the Titanium platform building apps for almost two years, Marcus decided to become more involved in the Titanium community. Since then he became a so called Titanium Certified Developer (TCD, and TCAD and TCMD before that), and a member of the Titanium Titans Program. He also attended Codestrong in San Francisco 2011, and tiConf in 2013 (Valencia) and 2014 (Amsterdam).
There are also some notable personal projects Marcus has been working on the recent years. For example, he released a popular theme for the blog platform Tumblr called Strict, with over 150 000 installs.
He made some popular micro-websites, like NoisePNG which lets users create noisy textures. He has also made some applications for Mac OS X, three of them are published on the Mac App Store.
Today Marcus still lives in Östersund with his two cats Reno and Elena. Aside from working on his projects, he also likes playing video games and board games. He is also very fond of listening to metal, in particular symphonic death metal and folk metal.
If you want to learn more about Marcus, you can follow him on Twitter, Dribbble or Instagram.