The last few weeks I've been having a break from my regular projects to work on a new and exciting (and perhaps a little surprising) app. It all began when Apple announced that they would release a new generation of their Apple TV. One of the biggest news with this generation was the App Store, now anyone would be able to bring content to their TV!
My friend Ola had an idea for an app he really wanted on this new device, so we joined forces to built it, the best teletext app ever made for Apple TV. It seemed like a fun challenge, and I managed to get my hands on a Developer Kit, so I was full of motivation!
Thoughts on the new Apple TV
Before we begin talking about the app, I just wanted to give you a quick summary of what I think about the new Apple TV, and tvOS which is the new software it's running. It's great.
Oh, you want more details?
The App Store is probably the biggest news, and the thing I've missed the most on earlier iterations of the Apple TV. I can finally watch Twitch on my TV without having to use AirPlay from another device. There are also games on the App Store, but I personally don't think gaming on the Apple TV will become that big.
One thing that bothers me is when apps that were available on the older devices haven't been updated to make use of the new interface that tvOS offers (I'm looking at you YouTube). But the great thing with finally having an App Store is that other developers can build better apps if the existing ones aren't that good.
Searching with the Siri Remote seems cool, but Siri hasn't been enabled in Sweden yet so I haven't had the chance to try it out. There doesn't seem to be any API's for developers to use Siri either, or voice recording at all for that matter, which is something I hope Apple adds later.
Introducing TextTV.io
If you don't know what teletext is (or Text-TV as it's called in some countries, which is where the app name comes from), it's a technology created in the United Kingdom in the early 1970s to send pages of text and graphics to a TV screen.
It is used for a range of text-based information, like news, weather and TV schedules. Some of you may be too young to remember this, but one use case you may have seen is subtitles on TV shows, which uses the same technology.
Even though most of the content has moved to the Internet, teletext is still a popular alternative today. Perhaps it's because of familiarity, or that it's easier to avoid information overload, or maybe that it's quicker to navigate even on lower bandwidths.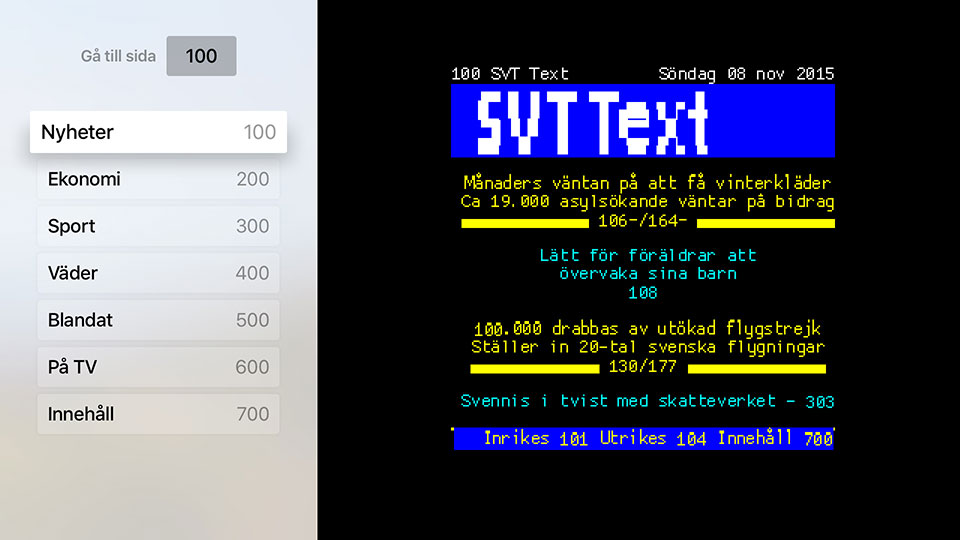 We wanted to bring teletext to the Apple TV, and we didn't stop there – we worked hard to bring you the best rendering available, to make it feel more authentic. For example we take the teletext pages provided by SVT (Sweden's Television), which is normally only available through web pages, and render this with a proper monospace font before delivering it to your Apple TV.
All the popular channels
At first we were aiming for an SVT-only application, but we changed our minds and decided to quickly bring an update that added more channels from other countries. Today we have channels from Netherlands, Italy, Norway and Finland, and we're planning to add even more!
As a bonus, we also added teletext40, a website celebrating art created for teletext-systems.
The app is also translated to all the languages we provide content for. The translations are made by us though, so if you see any errors, please let us know!
Where to find it